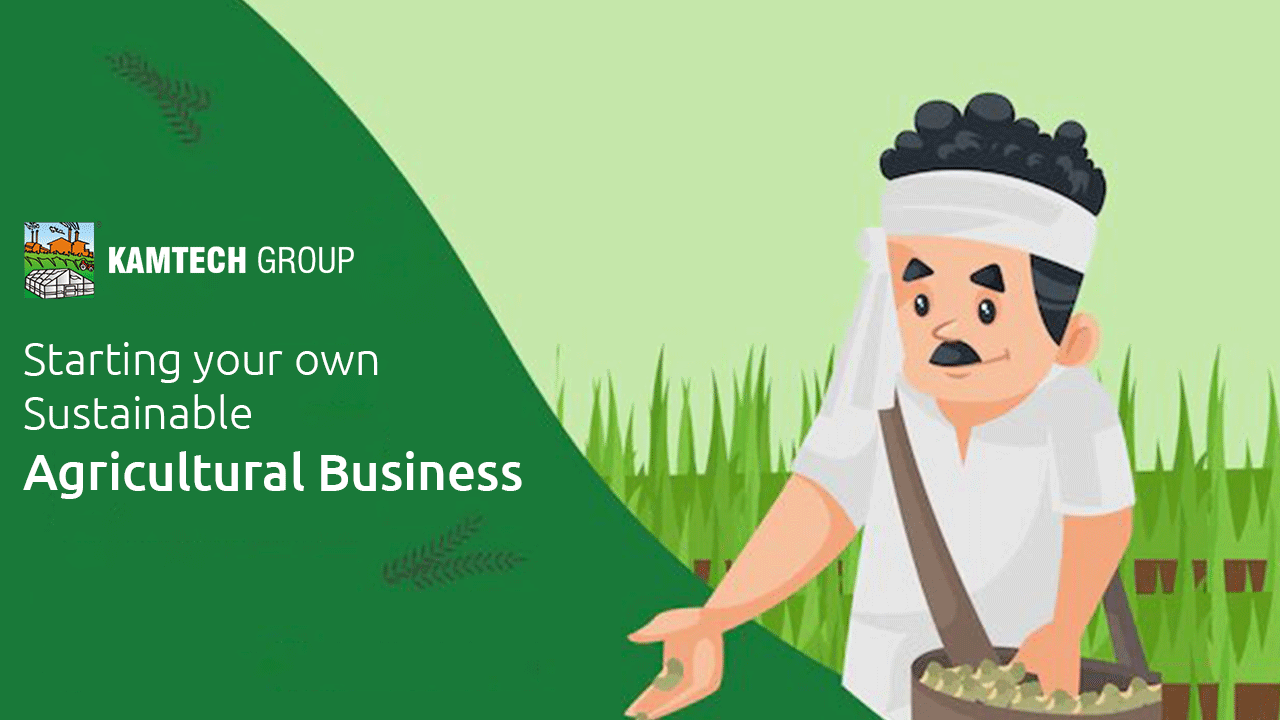 01-11-2022
Well, first of all congratulations to the thought of starting a sustainable agriculture business. Your motivation for having your own sustainable agricultural business might be you being environmentally conscious or you want to have a stable source of income with constant returns.
Well there's no hidden fact that the core sector of a country is utmost important from an economic point of view. Now that you have thought and want to start your own business, we are here to navigate you through the extensive step by step guide to starting a sustainable agriculture business.
An agricultural business includes a wide array of activities such as farming, production, marketing and management of agricultural goodies like grains, vegetables, fruits, and livestock.
Diversifying your business into horticulture is a great way to add a competitive edge and generate an extra source of income segment in your agricultural business. All in all, an agribusiness also consists of managing resources, conservation, warehousing and sales of the agricultural produce.
It's great that you've planned, but how are you going to make this work? We'd suggest you to follow the following six steps to bring your business thought to reality.
You can avail project management consultancy services from us to ensure timely and efficient completion of your project. Now let's get down to business! Read on to learn more about how to get started:
Setting out your objectives clearly
Clearly stating your goals takes you a long way towards success. Therefore, setting out S.M.A.R.T goals for your business i.e, goals that are specific, measurable, achievable, relevant and time based, are important. Basically, you have to set the objectives supported by a comprehensive market research.
After the research you'll be able to understand what the market needs and who knows your product could be the bridge between the demand and supply in the market. While setting out goals for starting a sustainable agriculture business you might want to ask yourself questions such as :
Where are you planning to start your sustainable agricultural business?

Are you starting the business as a hobby or you want to carry it forward as a means of income?

What are the problems faced by consumers?

What are the problems faced by competitors?

Are there any bottlenecks?

What is the current market potential?

What is the future of the market?

Are you planning to keep your business local or take it to regional, national and global markets?

How much yield are you expecting?

How are you going to manage the operations and expand the sustainable agricultural business?

What is the schedule for buying/renting the land, securing investment, getting supplies and starting the business operations?
This step involves laying a strong foundation via setting feasible yet economical objectives. A forward vision paves the way forward!
Procuring the machinery and equipment required
Considering the fact that you've a limited budget to invest into the business, a thoughtful choice of machinery is effective. You need to learn and gather knowledge about the machinery and equipment utilised so that you can make an informed choice regarding your tools. You also have to invest on pesticides, fertilisers, seeds and other organic inputs therefore; spend wisely!
Given the technical advancements taking place rapidly in the 21st century, a good balance of both labour and technology will pave the way for long run success. Including both labour intensive and technology intensive practices in starting a sustainable agricultural business and you'll be running your business effectively while staying within your budget constraints. For instance using silos for storage might seem expensive initially but is a better idea that is even cost effective in the long run.
Understanding the Rules and Regulations
The central and state governments have their own joint and individual rules and regulations set out. Knowing about these laws is absolutely essential to ensure smooth functioning of your business. Following are some of the laws that govern the sector you're indulging to start your business into:
Indian Contract Act, 1872

Factories Act, 1948

Minimum Wages Act, 1948

The Companies Act, 1956

Trade and Merchandise Marks Act, 1958

Monopolies and Restrictive Trade Practices Act, 1969

The Water (Prevention and Control of Pollution) Act, 1974

The Air (Prevention and Control of Pollution ) Act, 1981

Sick Industrial Companies (Special provision) Act, 1985

Environment Protection Act, 1986

Consumer Protection Act, 1986

Taxation laws covering Corporate tax, indirect taxes like Excise, Customs, Sales tax and Wealth tax.
This is not an exhaustive list, but a project management consultant will be able to guide you what is required for your specific business so that you can comply with all relevant laws and regulations.
Get your business registered and obtain necessary licences
There are various categories under which you might want to get your agricultural business registered like limited liability partnership, private limited company, partnership firm or proprietorship.
Make sure your get your :
E-Form or New user registration form filled

Obtain the Digital Signature Certificate (DSC)

Get the Director Identification Number (DIN)
After obtaining these necessary documents you can proceed with incorporating your business. Usually, the legal firm or expert can get your business registered as well as help obtain necessary licences. You can do the same individually by visiting the Indian government's portal.
Government subsidies provided by the Centre and the state:
Given the magnanimity of the agricultural sector, the government has launched various policies and schemes to facilitate the boost in the agricultural sector. Following is the list of some of the initiatives undertaken by the government of India :
National Mission for Sustainable Agriculture (NMSA) : The NMSA has been launched to enhance agricultural productivity especially in the red regions of India. The key focus through this scheme is on 'water conservation', 'Livelihood diversification' and 'Nutrient Management'. The main schemes under the NMSA are :
Rainfed Area Development (RAD)

Soil Health Management (SHM)

Sub Mission on Agro Forestry (SMAF)

Paramparagat Krishi Vikas Yojana (PKVY)

Soil and Land Use Survey of India (SLUSI)

National Rainfed Area Authority (NRAA)

Mission Organic Value Chain Development in North Eastern Region (MOVCDNER)

National Centre of Organic Farming (NCOF)

Central Fertiliser Quality Control and Training Institute (CFQC&TI)
For high quality seeds usage, Sub-Mission on Seeds & Planting Materials (SMSP) has been implemented.

Sub Mission on Agricultural Mechanisation (SMAM)

Promotion of Agricultural Mechanisation for In-Situ Management of Crop Residue had been launched to control Pollution due to subtle burning in the states of Punjab, Haryana, Uttar Pradesh and Delhi NCR.

Pradhan Mantri Krishi Sinchai Yojana (PMKSY) has been launched to ensure equity and efficiency in the irrigation system.

Agricultural Marketing Infrastructure (AMI) has been launched as a sub scheme of Integrated Scheme for Agricultural Marketing (ISAM) across the country.

National Food Security Mission (NFSM)

Mission for Integrated Development of Horticulture (MIDH)

Rashtriya Krishi Vikas Yojana (RKVY)

Paramparagat Krishi Vikas Yojana (PKVY)
The government has been vigilant regarding matters related to the agricultural sector and rolls out schemes and policies from time to time to accommodate changes and promote inclusivity. Reach out to us to know more about the latest schemes, policies and subsidies you can avail for your business.
Creating a detailed business plan with Financial Blueprint
Now is the time to get down and budget your venture. This is an absolutely necessary step in any kind of business setup process. This step will help you manage and tackle crises and take up important alterations. Before starting a sustainable agriculture business, have a detailed operational and financial plan. A financial plan should be clear and feasible.
An agribusiness is consumer-driven and that means there will always be a demand. This basic principle automatically makes the business full potential of profitability. Generally investors approach such businesses in the pre-growth era.
You can weigh your finance procurements options like friends, family, crowd-funding, loans, incubators, micro-funding etc. Keeping a record of the cash flow statements, break even analysis, balance sheet and projections of the future financial performance goes hand in hand with the operational quotient of a business.
Consider factors such as the initial investment, production demand, estimate annual gross and net income, marketing methods, assess the risk involved before, in and after planting and how are you going to apply for grants. Risk assessment is really important as there is a certain level of risk involved in each business. Your business plan should be able to give answers to following questions :
What makes your business unique from that of your competition?

What is your plan of action in terms of Operational, Marketing, and Business Feasibility?

What is your Unique Selling Proposition?

How are you planning for the structure and management of your company?

What is your business budget?

What are the costs and expenses?

How are you going to get the investment?

What are the target markets that are being targeted?

What is the HR and staffing structure and plan?

S.W.O.T & PESTLE analysis of your business idea?

Financial statement and cash flow forecasts?
Implementing the plan and monitoring
Now you just want to cross the last milestone to bring your idea to life. The last step is, obviously, to implement the finalised plan with considering the nitty-gritty from the previous steps. Undoubtedly the most challenging step is to implement your thoughts into action. Thus, just follow your to-do list and be assured that your research was thorough and go ahead with implementation.
Well, implementation isn't the last step and you need to monitor your results. And, when your business is affected by the community markets and weather conditions, it is not easy to monitor your business. Constant evaluation and accordingly making adaptations ensure long run success. Therefore, you need to reassess your plan accordingly and though it might get frustrating initially, it'll help you in the long run. Keep tabs on your production quantity, cash flows and market trends.
Sustainable Agricultural business is a great way to be environmentally and financially well-off.
If you are planning on starting a sustainable agriculture business first as a hobby, overtime you might want to consider it into a full time business opportunity. Food is something the world can't function without.

Thus an agricultural business is quite economically profitable. But it is a tricky task to start an agricultural business and hence, having an expert project management consultancy firm to assist you with the various tasks at hand will save you a fortune. Not only do the experts have knowledge, their prior experience goes a long way to provide your business a concrete outline. With over two decades of experience, we at Kamtech have the most efficient experts with us to help you start a sustainable agriculture business.