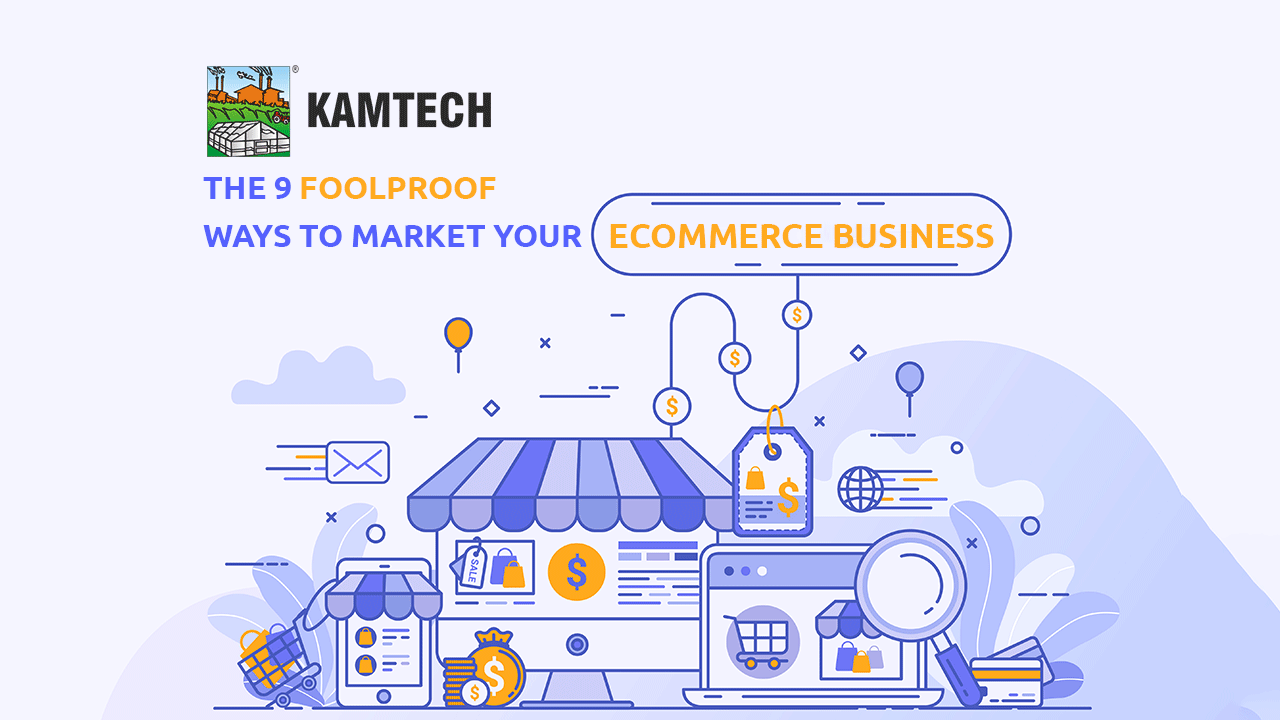 03-11-2022
Managing customers isn't the easiest thing and overwhelming your customers with repetitive advertisements might just make them unfollow you. You want to reach out to your existing and potential customers in an effective way while making the best use of your resources, especially time and money.
Online marketing takes time, you've to be patient with the results. Instead of spending all your budget on paid ads, in this blog we'll guide you how to generate traction, convert leads into sales to market your eCommerce business.
The following 9 ways to market your eCommerce business are sure to attract customers online and build your goodwill. You don't want customers to be a one time purchase audience, their loyalty is the key to long term success of your business. You can always either carry out these strategies on your own or opt for an expert. Reach out to a project management consultancy firm to devise and implement a strategy that meets your business needs and caters to your target segment of customers, mutually benefiting all the stakeholders.
Social Media is your best friend
Before we all got addicted to social media, word of mouth was one of the biggest tools to drive a company's sales. In today's time, Social Media is the key to market your eCommerce business. Posting consistently will take you a long way in the game. But don't go overboard with the posting as it might lead to your target audience losing interest.
You can use Google Analytics tool to analyse what are the social media platforms most frequently visited by your target audience. You can write about updates on industry related news and trends while smartly plugging in links from your eCommerce portal. Use the 60:40 rule, while you post interactive or informative content 60% of the time and you include your product and/or services links in the other 40%.
You've a limited budget, so making an efficient and effective use of the resources at your disposal is a must. Now that you've understood the 'where', it's time you understand how important it is to produce original and high quality content to be posted. Bringing content that's plagiarism free and creative binds the interest of the audience.
Producing compelling content can go on to generate revenue for years. It's about the little effort, the extra in the ordinary that makes it stand apart.
Pay per click (PPC) advertising strategy
Pay per click is a reliable way to market your eCommerce business as you can analyse the cost benefit ratio. PPC involves 3 elements, you take care of them and you're good to go. The three elements include:
The advertisements

The offer

The landing Page
These three elements must be in synchronisation so as to provide the users with what was promised in the ads. The most popular PPC software being the Google AdWords, this enables you to plug in ads which appear on the top of the search engine results. Using a good keyword, which appears on the top of search engines is a must. It'll assist other marketing strategies as well. Usually there are two strategies to PPC, first being cost per click (CPC) and second cost per impression (CPI).
Make sure that your landing page is the place where you dive in detail to introduce and boast about your product. Give the audience a complete picture of your product. You can measure the success of this marketing strategy by using the Analytics tool. You need to constantly monitor your success ratio and wisely spend on such tools. Keeping a track record of ongoing activities and updating accordingly is the ultimate goal.
Have a Search Engine Optimisation strategy
Thanks to search engines like Google, you get each and every detail in milliseconds on your screen. Leverage this technical advancement in today's times and design your website to provide the users with rich and relevant content, user friendly experience (UX) and optimise it to be error-free as much as possible.
The content that you post online should be informative and relevant to what the users are searching for, make sure you personalise the content as much as possible. The user should get the feeling that the content has been uploaded exclusively for them, without being aware that you're assessing their click and scroll patterns to better optimize your website using Analytics tools. Using keywords that help your business appear on top of search results is the most economical way to market your eCommerce business. SEO strategizing is the most effective strategy while being cost efficient.
Personalise the experience
Customer is the king. Your job as the provider is to best serve your customers. Therefore, providing them a personalised experience is a great way to attract their loyalty.
You can enhance the user experience by taking out time to get to know more about your customers, familiarise them with your company, ask about their preferences, share pictures and videos of your satisfied customers, positive reviews, employee experiences etc.
People love to feel special and so don't forget to add personal touches in their experience. You could add in new features to your eCommerce portal catering to the specific needs of the majority of the users. Personalisation will go a long way in your business's success and eventually build goodwill.
Get creative and start blogging
You don't have to be a certified writer to start a blog. Many online businesses have started their own blogging sites. This way you keep in touch with your customers regularly and even drive traffic to your online business.
There's no hard and fast rule to writing a blog. If you aren't sure how to start writing a blog, a great way to start is by answering some frequently asked questions by your users. It is scientifically proven that people remember visuals over texts and your ultimate goal as a business owner is to leave an ever lasting impact on your customers. Incorporate Images, videos, reels, flow charts, venn diagrams, fonts etc. to make the content as appealing to the eyes as possible. It's simple, if it's out of sight, it's out of mind, so keep blogging periodically to stay in the game.
Slowly and steadily when you get the hang of writing, analyse your consumer behaviours and preferences to pinpoint topics to write about. For e.g, if your company is in the cosmetics business, write about the ways to layer your skincare, how to do a natural makeup look, the best cosmetic product out there etc. Get creative, think outside the box and write in a way that the article speaks to the reader.
Strategic partnerships
Create the buzz around your website and products by partnering up with relevant global companies, marketing companies, consultancy firms, media houses etc. You can also enter into a partnership with another company that might be offering a product/service that complements your product/service. For instance, if you run a ecommerce business of jewelry, you can partner with a marketing agency to reach out to a larger audience base globally.
Email Marketing
The reason why email marketing still exists as a way of promotion is because it actually works. Cold mailing isn't a viable option here as instead of grabbing the attention of the customers, this may turn them off. Be particular and mindful of your content in the mail. You could opt for a drip email campaign instead.
You could write about some useful content, post about your blog content in the mail, disseminate information regarding offers and promotions. Make sure to keep tabs on the returns you're getting while putting in efforts not just in the E-mail marketing strategies but also all other strategies. Observe your customers' responses to the email through analytics tools and make decisions on how to proceed further. The ultimate goal is customer satisfaction and hence make the experience as personal as possible. Drop in with some eye-catchy subject lines!
Re-targeting consumers
If it didn't workout the first time that doesn't mean it wont work every time. Customers who have displayed interest in your business are most likely to make a purchase as well. Re-targeting is a strategy through which you target the customers that visited your business site or added products to the cart or wishlist and display ads related to their preferences.
It's just like a person looking for a universe's sign. If they repeatedly see it, they tend to believe in it. The end goal is to drive the potential traffic to your business and then there's a high chance that the customers will make the purchase. This technique is very much similar to PPC and SEO, you display the necessary information as soon as you click on it. Make your ads as specific as possible. Was the customer looking for a swimming costume? Run ads showing swimming costumes that can be worn by children, men and women.
Influencer marketing
When heard from a trusted source, people tend to believe in the news. Influencer marketing as a way to Market your Ecommerce Business is great. You can reach out to podcast channels to run ads in the beginning or at the end of the session. Reaching out to channels that serve the same interest as your company does, is all the way more effective. If the ad is a little longer, it can be run in the middle of the podcast when the listener is quite invested into the session.
You can also give away free sample products to online influencers on instagram, snapchat and youtube and ask them to review it for the customers. It is not always a costly procedure and the results definitely show.
Make sure once you start getting good results you don't stop putting in the effort. Remember it's all about perseverance. Do not compromise on the competitive edge of your business.
Promote your eCommerce Business like an expert
By now we're pretty sure that you've understood the game. Kamtech can help you effectively navigate your way through the crowd and stand out. Well, our project management consultancy experts are all the more excited to help you out and make your eCommerce business get popular. With over two decades of experience in the market, we'll guide you and personalise a strategy customised to your business needs.
Feel free to reach out to us for a no obligation consultation today!